How do I get vaccinated?
In the United States, everyone 5 years and older is now eligible to be vaccinated with the Pfizer COVID-19 vaccine and anyone 18 years and older is eligible to receive the Johnson & Johnson and Moderna vaccines. To find vaccine providers near you, visit vaccines.gov (available in English and Spanish).
Vaccine FAQs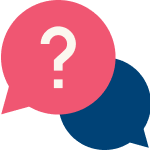 You probably have a lot of questions. That's normal. We have answers.
State vaccine information
For more information about your state's vaccine rollout plan, click your state below.