How do I get vaccinated?
State and local governments are the ones that decide vaccine rollout plans and eligibility based on the local supply.
As more vaccines are produced, more people will be able to get vaccinated based on recommendations from doctors and scientific advisors at organizations like the CDC and Advisory Committee on Immunization Practices.
Vaccine FAQs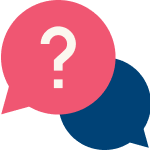 You probably have a lot of questions. That's normal. We have answers.
State vaccine information
For more information about your state's vaccine rollout plan, click your state below.