How do vaccines keep us safe?
Vaccines are the best protection we have against many serious illnesses, including COVID-19.
It's important for everyone who's eligible to get vaccinated. If you're not sure, ask your healthcare provider if you should be immunized against COVID-19.
Vaccine FAQs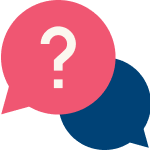 You probably have a lot of questions. That's normal. We have answers.
State vaccine information
For more information about your state's vaccine rollout plan, click your state below.